_______________________________________________________________________________
(THIS RECIPE IS UNDER CONSTRUCTION)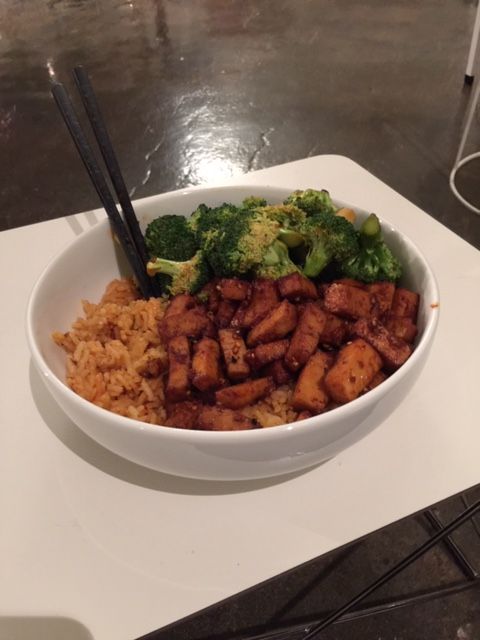 Ingredients:
K-Mama Sauce
Wildwood Baked Tofu, savory, 1 block cubed
Soy sauce
3 heads broccoli cut into florets
Instructions:
Cook 1 cup rice with 2 cups water, 2 Tbsp K-mama sauce, and 1 Tbsp Soy Sauce
Mix cubed Toft in enough K-mama sauce to coat, about 1/8 - 1/4 cup
Marinade 1 houir
Back at 350 degrees for 35 minutes, stirring occassionally
Shake Broccoli florets in plastic bag and 2 Tbsp soy sauce
Broil in shallow baking sheet for 15 minutes at 425 degrees for 15 minutes, stirring occassionaluy
Pickled carrots: TBD
Divide rice between 2 bowls
Top each with 1/2 the tofu cubes, 1/2 the broccoli florets, and 1/2 the pickled carrots
Serve with kimchi
_______________________________________________________________________________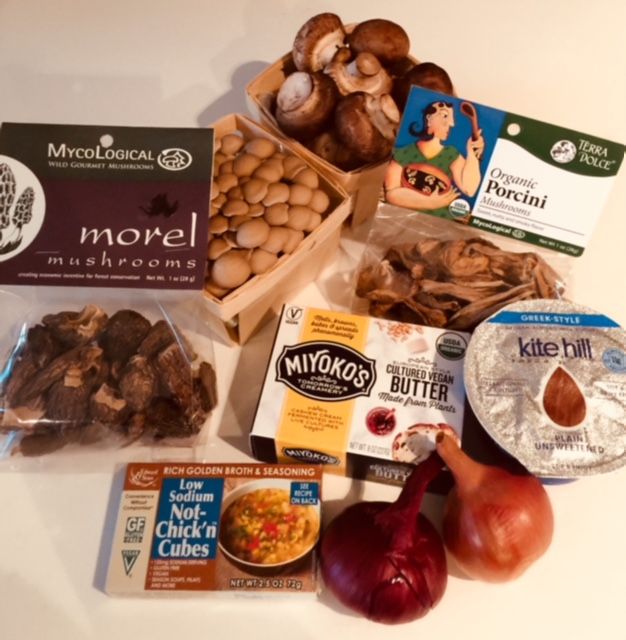 Ingredients:
3-4 dried morel mushrooms, broken into small pieces (optional)
2 - 3 Tbps crushed dried porcini mushrooms
4 Tbsp olive oil
1 shallot, finely chopped
1 small red onion, finely chopped
3 -5 Tbsp Miyoko's Vegan Cultured Butter
2 boxes enoki mushrooms, chopped into bite-sized pieces
1 box crimini mushrooms, sliced
1 block from a box of Not-Chick'n Cubes
2 cups water
3 small containers of Kite Hill (or other brand) plain, unsweetened, almond yogurt
2 Tbsp brown rice flour
1 to 3 tsp sea salt
1/4 tsp ground sage
2 large handfuls of finely chopped spinach leaves
1/4 tsp pepper
Make ahead: 10-12 bisquits, any recipe. I use Bob's Red Mill Gluten-free Biscuit mix made with flax eggs and Miyoko's Vegan Butter.
Mushroom Gravy instructions:
Bring 1/2 cup water to boil. Remove from heat and add the dried morel and porcini mushrooms. Let soak for 1-3 hours or overnight in the refridgerator.
Heat a large skillet over medium high heat. When the skillet is hot, add the olive oil. When the oil is hot, add the shallot and red onion and sprinkle with 1/2 tsp salt. Sauté until translucent. Add the morel/porcini mushrooms and their liquid, Miyoko's butter, and the enoki and crimini mushrooms. Sprinkle with 1 - 2 teaspoons of sea salt. Sauté until the mushrooms are soft. Add the remaining water, the sage, and the Not Chick'n Cube block. When the water comes to a boil, turn the heat down to low and simmer 10 - 15 minutes, stirring occasionally.
While the mushrooms simmer, in a small bowl, mix one half of a container of yogurt with the brown rice flour.
When the mushroom's have simmered enough, turn the heat back up to medium-high. Take 1/2 to 3/4 cup of the hot liquid from the mushrooms and thoroughly stir it into the brown rice/yogurt mixture. Pour this brown rice thickener into the skillet of mushroom broth, stirring as you pour. Continue stirring and when the gravy comes to a boil, stir for 1 minute more.
Remove the skillet from the heat and stir in the remaining 2 1/2 containers yogurt, the pepper, and the chopped spinach. Taste and add more salt if needed.
To serve:
Split biscuits in half and ladle the mushroom gravy over the biscuits.
Alternate serving:
Serve over mashed potatoes or mix the mushroom gravy with cooked fettuccini noodles (think Stroganoff).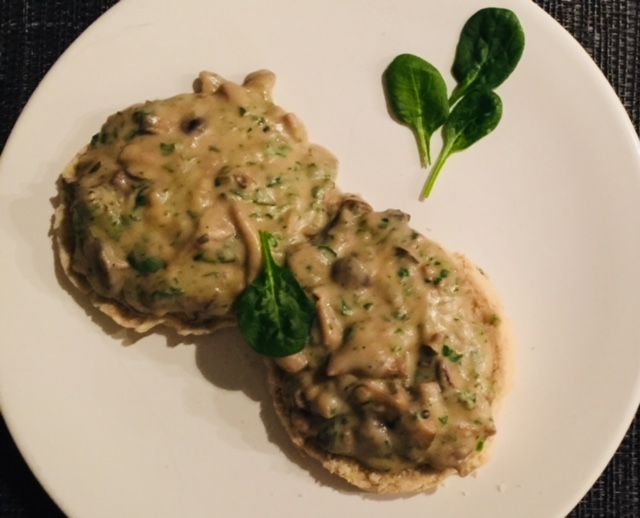 _______________________________________________________________________________
1 head of cauliflower, cut into florets and steamed
1 box plain Punk Rawk Original Nutmilk Cheese
3 Tbsp Miyoko's Vegan Cultured Butter
2-3 Tbsp nutritional yeast flakes
3 Tbsp Kite Hill (or other brand) plain, unsweetened, almond yogurt (optional)
Sea salt to taste (a pinch or two)
1/8 tsp white or black pepper
After steaming the cauliflower, melt the butter in a large saucepan over low heat. Remove the saucepan from the heat. Add the Punk Rawk cheese, nutritional yeast, yogurt, sea salt, pepper and steaming hot cauliflower. Stir until all the cheese is melted and the sauce is distributed evenly over the cauliflower.